«back to skins library
Plexum Glass Remix
Media Control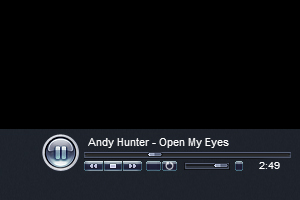 File size:
57.43 KB
Author:
Oleg Pluton
Published:
May 29 2022
Downloads:
262
Comments:
1
Rating:
3.5 of 5 (2 votes)

Description:

There is Plexum skin by Pavel Zlatos (May 26 2007) and it is very functional having nearly all the buttons at once. But still it had no shuffle and repeat buttons and the graphics were a bit overloaded. I made a version with all the buttons, taking less space and having rather neutral style. For use on a two-line taskbar, right panel is recommended. The skin has a transparent backing, so it will harmoniously fit into panel of any system with almost any skin (it has been used for many years on Win XP, 7, 10).

* * *

Существует скин Plexum от Pavel Zlatos (26 мая 2007) и он очень функционален, почти все кнопки сразу. Но в нем не хватало кнопок перемешивания и повтора, а графика была немного перегружена. Я сделал вариант со всеми кнопками, он занимает меньше места и имеет довольно нейтральный стиль. Для использования на двухстрочной панели задач, желательно на правой панели. У скина прозрачная подложка, поэтому он гармонично встроится на панель любой системы с любым скином (много лет использовалось на Win XP, 7, 10).

Пришлось сделать перезалив (публикация была в 2017), потому что там коменты заспамили.
Add new comment
Comments

2022-07-02 20:09:34
Классный, прагматичный такой скин.